Karfunkel
Fashion Doll Designs

by

Anja Drewitz

 
Welcome to my gallery of dolls! :-)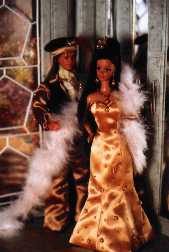 Designing outfits for my fashion dolls, rerooting and repainting has been one of my favorite occupations for several years. My warmest thanks to Jim Faraone for featuring me in his book Fashion Doll Makeovers 2!

On this page, I would like to show you a small sampling of my creations.
If you want to see more of my dolls, just have a look at my Candi Girl Makeovers page. It features several of my designs, plus a lot of beautiful creations by other artists.

---
Last modified: May 22, 1998

E-Mail: anja@agnes.dida.physik.uni-essen.de