Candi Girls main page | Dolls by the years
Candi Makeovers Gallery | Links | Dealers

You are here:
Candi Girls --> Dolls by the Years --> Candi History
---
A brief history of Candi Girls
The woman bringing Candi Girls to life is Helena Hamilton, president, founder and creative director of Hamilton Design Systéme. Known to many as Helena Springs in the music industry, she has been a back-up vocalist for superstars like The Rolling Stones, Bette Middler, Elton John, Bob Dylan, and David Bowie.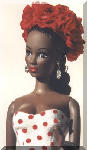 Helena's enterprising journey began in 1988 while she and her daughter, Nina, spent quality time together playing with Barbie dolls. She soon started to sew for her daughter's dolls and had a lot of fun doing it. However, being an artist, she soon wanted to do more. Her idea was an ethnic fashion doll with realistic features that her daugther could relate to.
Helena called her doll Candy Girl. In Barbie Bazaar Magazine 6/1992 she explains: "My concept is that we're all Candy Girls. Women come in all colors. I think it is a fun thing to be a Candy Girl as opposed to Candy Girl being one person."

At first, no bank was willing to back up Helena's business venture. The major toy companies were not interested, either. But Helena was not likely to give up so easily on her dollmaking dreams. With considerable effort, she finally found a bank who agreed to finance her endeavor. She assembled a team of experts to work beside her.
In February 1991, ads in Playthings Magazine and other U.S. doll publications announced Candy Girls to be introduced at the Hong Kong and New York Toy Fairs. Cartons of merchandise were ready to be shipped into the United States from China where the dolls are manufactured on the mainland. But then, Helena's bank dropped out. She was back to square one trying to find an investor.
Until spring 1993, no Candy Girls had appeared in U.S. toy stores. However, from 1995 on ads in Barbie Bazaar Magazine offered Candi Girls via mail-order from Hamilton Design Systéme. Besides, Helena sells her dolls personally at doll shows. These dolls are Limited Edition collectors' items, several of them wearing gorgeous hand-beaded outfits.
Note that the dolls' name has changed: At first they were "Candy Girls", now they are "Candi Girls". ;-)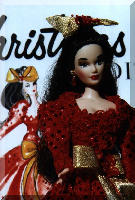 At one doll show, Helena happened to meet Paul David who runs a mail-order collectors' shop offering Barbie, Jem, Sindy and other high-quality fashion dolls. His business partner MiKelman has been designing hairstyles, make-up and fashions for Barbie dolls since 1985. His fabulous custom designs fetch high bids at charity auctions. (Also, enjoy his creations in Jim Faraone's book, Fashion Doll Makeovers.)
Paul David and MiKelman were absolutely thrilled about Candi Girls. A creative cooperation began that promises to be very successful. In 1996, the dolls got new, detailed hands and two new head molds (hispanic and asian). Two more head molds are in the works. Candi Girls' make-up is now designed by MiKelman. There will also be a series of 6 MiKelman Exclusive Candi Girls wearing his fashion designs in 1997.
---
References
Information on this page has been quoted from
Maria Toth: "Candy Girl!" in Barbie Bazaar Magazine Nov./Dec. 1992, Jan./Febr. 1993
Paul David catalog #154 (Summer 1996), #155 (Fall 1996)
---
Candi Girl is a registered trademark of Hamilton Design Systéme. Barbie is a registered trademark of Mattel. Jem and Sindy are registered trademarks of Hasbro. Other trademarks on this page belong to their respective owners.
---
Candi Girls main page | Dolls by the years
Candi Makeovers Gallery | Links | Dealers
---
Anja Drewitz, <anja@agnes.dida.physik.uni-essen.de>
Last updated June 8, 1997