Candi Girls main page | Dolls by the years
Candi Makeovers Gallery | Links | Dealers

You are here:
Candi Girls --> Dolls by the Years --> Earlier issues (1995 - 96)
---
Earlier issue Candi Girls (1995 - 1996)
The first ad offering Candi Girls I remember was in Barbie Bazaar magazine July / August 1995. I assume that is when they were sold for the first time. In case you know more about when the dolls first came out and which dolls were available, please let me know. :-)
Originally, Candi Girls had been available with the african-american face mold and dark skin tone only, even though they had planned to make both black and white dolls. The only exception seems to be latin style White Diamond. This doll was a limited edition of 20, featuring the african-american mold, light skin tone, and a black wig. All these earlier issue Candi Girls had bent elbow arms with fingers molded together (separated thumb).

I did not care about Candi Girls back in 1995. However, now I am glad to have acquired three of the earlier ones. Here they are:
As to my knowledge, the early Candi Girls had hand-sewn outfits and hand-painted makeup all done by Helena Hamilton. They look great when displayed. However, as for the three 1995 dolls I have, their outfits cannot be removed and the beads on the beaded gowns were glued on, among other things.
On the other hand, the 1996 Christmas Candi has a zippered gown with sewn-on beads that fits her perfectly. There has been a considerable increase in quality since Helena Hamilton became affiliated with MiKelman and Paul David.


This picture has been contributed by Judy. It shows her collection of early Candi Girls.




The first African American Box Doll came in a black cat suit.
Paul David later sold several early Candis nude in "baggies"--I think these were left-overs of the first Box Dolls. Here is a close-up of on of these baggy Candis. The doll has brown eyes and dark raspberry lips.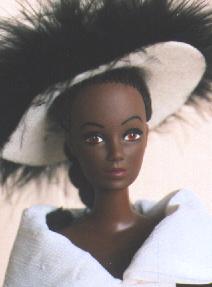 In 1996, Helena Hamilton made Midnight Blues Candi as a store exclusive for Paul David's fashion doll warehouse. This doll is a limited edition of 100. I guess it is the last of the bent elbow Candi Girls because quickly afterwards, the new straight arm molds with separated fingers were introduced. This picture of Midnight Blues Candi is scanned from Paul David's catalog.

---
Candi Girls main page | Dolls by the years
Candi Makeovers Gallery | Links | Dealers
---
Anja Drewitz, <anja@agnes.dida.physik.uni-essen.de>
Last updated March 7, 1999