Candi Girls main page | Dolls by the years
Candi Makeovers Gallery | Links | Dealers

You are here:
Candi Girls --> Dolls by the Years --> 1998
---
Candi Girls for 1998
Retro Candis (second edition)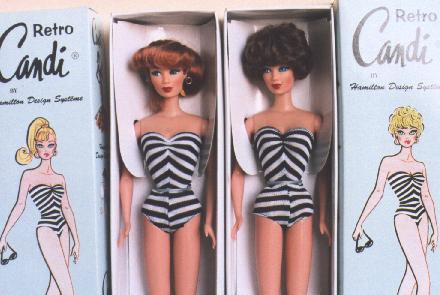 Dolls come as blonde, brunette (blue eyes), redhead or honey tone african-american (green eyes), either with Ponytail or Bubble hair style. They come in a slim cardboard box with drawings of Retro Candi fashions. Accessories are a black/white striped swimsuit (reminiscent of the first Bar*ies), black shoes with straps and black glasses.



The ponytail is rooted similar to the hairstyle on vintage Bar*ie dolls: There is only one row of hair, and the top of the head is bald.

Retro Candi fashions:

Retro Cherisse


The Cherisse dolls are not part of the Candi line but are produced by Integrity Toys for Paul David and MiKelman. Before the business relationship of Candi maker Helena Hamilton and Paul David broke, MiKelman designed the Retro Candi line. Retro Charisse features the same design--four ponytail dolls, four bubblecuts, and 6 Retro fashions which are very similar to Candi's.



Here is a brief comparison between my redhead bubble Candi and redhead bubble Cherisse. Cherisse has a different head mold, slightly different body (less rounded breasts and smaller butt--closer to classic Bar*ie figure), and different hands (overall smaller and pinky finger separated on left hand only). Cherisse's swimsuit is tagged "MiKelman", Candi's has a small gold sticker saying "Made in China". Candi's hair is softer, and, as for the red head, also a tone darker. Both dolls have collar bones, and the legs on both bend up to 90 degree. They also have about the same weigth (148g for Candi, 144g for Cherisse.) Both dolls come with (different) glasses and shoes. Cherisse has two pair of shoes: black Candi pumps (yes, the same that came with many Candis) and cheapo black sandals. Candi has black high-heels with straps.


Signature Series Candi

All three dolls are made from the first Candi mold (african-american) and have red or rust colored hair. They are wearing long gowns with sequins, beads and glitter (see prototype picture at left).

Burgundy gown: long red hair, violett eyes.
Blue gown: Blonde with blue eyes, hair in bun.

Green gown: dark tone african-american doll with long red / brunette streaked hair, green eyes.

New York Collection

Line of 12 designer inspired dressed dolls. Some of these are deferred to 1999. Originally, a line of separate fashions had been announced, too, but it has not been spotted yet.

A Waltz at the Waldorf
Has the hispanic face, blonde hair styled in a bun, and blue eyes.
A Wedding at St. Patrick's Not yet available
Beekman Place
Beekman Place Candi has the Swedish face with bright red hair and green eyes. She comes with a brown fur stole that I took off quickly and put it on Manhattan Gold where the color matches much better.
Cocktails at the Carlyle
Fifth Avenue Fortuny (gold) Not yet available
Fifth Avenue Fortuny (green) Not yet available
Manhattan Gold
Manhattan Gold Candi features the hispanic face with long, loose reddish-brown hair. Eyes are green and lips are a dark red metallic tone. I think that's one of the prettiest Candi faces ever!
Ms. Madison Avenue
Harlem Nights Not yet available
High Society
Positively Park Avenue
Positively Park Avenue Candi comes in one of two variations. One has sandy blonde hair in a bun, the other long platinum hair (pictured). The doll with the long hair is the same as the blonde 1997 Christmas Candi.
Ravishing at the Royalton

I have also heard collectors referring to these as "International Candi Girls". This is most likely due to one of Paul David's promotional postcards (shown here). It is done like a magazine cover with a picture of (prototype) Fifth Avenue Fortuny Candi Girl and the words "Candi International" at the top.

BTW, "Candi International" ist the name of HDS's magazine-type Candi catalog. Two issues have been produced so far.

Christmas Candi
There is a choice of 3 different Christmas Candi Girls. The dress pattern is the same, but fabric color, face mold and hair color vary. Their Make-Up has been designed by Ken Bartram.
Danish mold: red hair, green dress, red coat with pink lining
Hispanic mold: brunette hair, gold tone dress, green coat with red lining
Swedish mold: blonde hair, red dress, blue coat with purple lining


Four different dolls wearing a little more than nothing: red lacy teddies with decorative bows, gloves, stockings, and shoes.


Accessories
There are several shoe packs with Candi pumps in various colors. There is even a metallic shoe pack with metallic pumps in 6 colors (gold, silver, pink, ...).

Candi Rumours
These dolls had been talked about in 1997 as upcoming designs for 1998. However, they have not been seen so far.
Sweater Girl Candi All five head molds will be available in this 50's style series. The dolls are intended to wear twin sweaters in pink, white, black, and blue, made of "really teeney tiny knit". Sweater sets will consist of a sweater shell with a long sleeve sweater over top and either slacks or a sheath style skirt.
Mermaid Candi There is a prototype picture in Miller's Magazine Winter 97/98 showing a mermaid Candi Girl with flame red hair.
Baby Doll Candi Girls Wearing short dresses.
Polynesian / Hawaiian Candi Girls
Tahitian Candi Girl Second in a series, following China Doll Candi Girl.
---
Candi Girls main page | Dolls by the years
Candi Makeovers Gallery | Links | Dealers
---
Anja Drewitz, <anja@agnes.dida.physik.uni-essen.de>
Last updated March 7, 1999